National Board Certified Health & Wellness Coaching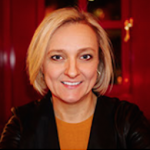 About our Therapist
Like most holistic practitioners, Andrea started her path to naturopathy due to her own health issues; obesity and eczema. Andrea tried many diets and even started to run 5Ks, but nothing really helped. After extensive research she implemented a very simple method: cleansing her body's accumulated toxins with colonic irrigation and replacing nutrient deficiency through juice therapy. Andrea also started to focus on lasting lifestyle changes.
Her belief is that disease is caused by either "Toxicity" and/or "Deficiency". That is why colonic irrigation and juice therapy go hand in hand: by removing toxicity and replacing nutrient deficiency with the help of freshly extracted fruit and vegetable juices; pure whole foods; clean water a vast majority of modern diseases will improve dramatically.
The results of these simple steps were astonishing: not only did her eczema disappear, she also lost 2.5 stones. Her energy level increased, and she got her self-esteem back. This turned into a passion and she could not stop anymore. Andrea started to take courses and became:
• A Certified Health Coach through Dr. Sears Wellness Institute in the United States
• A Natural Juice Therapist through Juice Master Academy in the United Kingdom
• A Certified Colonic Hydro- Therapist through Dotolo Europe
My passion is to help others achieve similar results offering the following services:
• Lifestyle, Exercise, Attitude and Nutrition group classes
• One-on-one Juice Therapy / Health Coaching
• Juice Demonstrations for Groups

What is Colonic Hydrotherapy?
Colonic irrigation is the process of cleansing the colon by passing several gallons of water through it with the use of special equipment (I am using Dotolo's Toxygen machine). This has the effect of flushing out toxins, mucous, and even parasites that often build up over the passage of time. We should have one bowel movement for every meal that we eat; if not, we are not eliminating wastes completely, and if input exceeds output, then we will surely suffer the consequences at some point. Decomposing matter can cause a toxic condition and may lead to many health problems; at best will cause fatigue, lack of energy and premature ageing, and, at worst, can cause degenerative disease, among them allergies, and even cancer.
Removing large amounts of toxic matter relieves the patient and can lead to the alleviation of symptoms such as arthritis, chronic fatigue syndrome, candidiasis, diverticulitis, Crohn's disease, leaky gut syndrome, heart problems, migraine, allergies, bad breath, acne and other skin problems such as psoriasis, or eczema, asthma, cancer, particularly of the bowel, and a host of other illnesses. Colonic irrigation can help restore normal peristaltic action to a sluggish bowel, thus reducing the need for more hydrotherapy treatments over time. In addition, removing the layer of faecal matter which coats the intestines in many individuals allows improved assimilation of the nutrients from foods and can alleviate symptoms of vitamin and other nutrient deficiencies.
Description of treatment
Treatment: during colonic irrigation, a small speculum is passed into the patient's bowel through the rectum. This is attached to a tube, which leads to a tank or machine that pumps temperature-controlled filtered water into the colon at a controlled rate (to be controlled by either the practitioner or the patient). The patient will temporarily be filled with water up to the level of the entire colon. This process it is not painful. It triggers peristaltic action and the patient will begin to expel the water along with faecal matter back through the tube. During the treatment, the therapist will gently massage the patient's abdomen to help dislodge impacted faecal matter.  Sanitation is vital to the process: the tube, pads and speculums are all disposable.
I am currently practicing Colonic Hydrotherapy at Kingston Natural Health Centre. Please check my profile in their website at: http://kingstonnaturalhealth.com/therapist/andrea-okos/ and make an appointment by sending me a message through my website at www.loveyourselfdetox.co.uk or calling my number at 07939 225 289 More information about colonic therapy: http://kingstonnaturalhealth.com/treatments/colonic-irrigation/
Testimonials
Andrea,
Many thanks for your guidance on juicing.
You have given me a clearer understanding of the benefits of juicing, how natural minerals absorb into your body and how to control fibres to achieve goals.
Not only advising about combinations of foods, you have been there at all times of the day to answer or resolve any questions I have thrown at you.
Through combinations you have given to achieve my goals, I am now beginning to wake up feeling a lot fresher and clearer minded. My fitness levels are forever increasing and I am remaining a lot more focused!
Wishing you a very successful journey ahead! – Stephen P.
Personally I was a bit sceptical when I first heard about juicing. My approach was: eat good, healthy, natural food, try to avoid the bad stuff, like eating / drinking anything that has artificial ingredients in it, that's the best that you can do for your health. What more could you do?
Then Andrea introduced me to juicing and explained me that it's benefits are more than getting the pure, good quality nutrients that we consume in the juice, but also that juicing gives a break to our digestive systems, and when that happens the body's built-in self-cleansing mechanism starts to work. I have not heard of this before, but it made a lot of sense.
I started experimenting with juicing under Andrea's supervision; and by now I really like it. I have done three day juicing sessions every two-three months; I can fit this in my schedule easily. I always feel much better after juicing, it's a refreshing experience. Thanks, Andrea!    – Frank F.
Andrea is a very experienced and professional hydro-therapist, she makes the whole experience simple, relaxing, and ensures you feel at ease. I was very happy with the session, as well as the results. –  Imogen S.
Hello everybody! I`m Bianca and Andrea is helping me to get rid of my sweet cravings and my addiction to junk food. I started the elimination diet about 1 month ago. Since then, I lost 12 pounds and about 4 inches around my bust, waist and hips. Also, I started exercising 3 times a week so the results will be amazing. Andrea helped me and is helping me whenever I have questions and dilemma. She is great with what she is doing, I trust her completely. She is always there to support you! I`m happy that I can work with her! I`ll keep you updated about my evolution!  – Bianca
Andrea made me feel very comfortable throughout the process. She works with your own rhythm and we achieved a very good cleanse through the three colonic treatments. I would definitely recommend her to family and friends – TH
I would recommend Andrea highly who I have now visited 3 times for colonic irrigation. Andrea is a very calm caring lady who has huge passion for her job. The time taken in these sessions made me feel comfortably relaxed and at ease. I left the sessions feeling much healthier and I am looking forward to my next visit very soon! Thank you. – A.S.
Andrea is very professional, friendly, understands her subject very well and gives great nutritional advice. She made me feel at ease and comfortable. I had three sessions and each time I left feeling happier, more energetic and with a clear mind! Personally, I would recommend Andrea – her kind nature was lovely and I could not have chosen to go to a better person. – T.M.
Availability
Andrea's availability is usually Fridays – Sundays and some additional nights after 6:30 pm. Please make an appointment in advance, as slots fill up quickly.

---
Please call 07939 225 289 to make an appointment with Andrea.
---