Medical Intuitive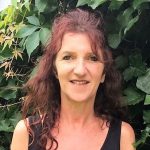 About our Therapist
Elaine initially trained in reiki in 2002 and then followed the path of naturopathic nutrition (2005) and wellness life coaching (2008). For many years, she helped clients with digestive disturbances such as IBS, constipation and bloating, weight loss, hormonal imbalances especially PMS and PCOS, skin issues such as eczema and acne, arthritis and stress and anxiety. Elaine also assisted those with CFS/ME, as this was a condition she herself had recovered from.
It was in 2015, whilst studying neuro linguistic kinesiology, that the way Elaine worked was to change considerably. Instead of gaining information from the body via muscle testing, her hands began to move over the aura of the client, and information was given to her on health issues that needed to be prioritised. This would be either to focus on, for example, the digestive system, the liver, female hormonal imbalance or structural issues with ligaments, tendons, muscles or bone. Other times, the focus would indicate to be of an emotional nature for the client. Elaine has learned to trust this Guidance and relay the information she receives to her clients.
Description of Treatment
You will lie, fully clothed, on the massage table. Using her hands, Elaine will begin to scan your aura (the energy field surrounding the physical body).
At this point in a session, she works in a semi-meditative state, where she is guided and directed to where healing energy is required. This takes place in many forms. In the physical body, it may be by laying hands directly on the body, or she may receive infused information about an organ or tissue. This may draw upon her knowledge as a Nutritional Therapist to look at strategies to help. Elaine also works energetically to balance the chakras or to help release emotional debris trapped in the auric field. She may be guided and given appropriate wording to provide a mantra for a client to use, which may assist in establishing new neural pathways in the brain.
Elaine can never predict exactly how a healing session will unfold. What she can promise, however, is that her healing is always from the Highest Source. Elaine works honestly and with integrity
and will always direct you to seek medical advice as and when required.
Qualifications
Certificate in Neuro Linguistic Kinesiology (Australia, 2015)
Diploma Nutritional Therapy (College of Naturopathic Medicine, London, 2011 – 2013)
Certificate IV in Health & Wellness Life Coaching (Australia, 2008)
Dr Sandra Cabot Weight Loss Consultant (Australia, 2005 – 2006)
Reiki I & II (Australia, 2002)
Prices
£50 per hour session
Contact
Mobile 0743 489 4668
Email: else.davis@gmail.com
https://www.facebook.com/ElaineatEsher
Disclaimer
Medical intuitive and energy healing sessions are not intended to diagnose, treat or cure any medical, psychological or other health conditions, nor are they intended to replace any such protocols. You are advised to continue ongoing medical or healthcare treatment until otherwise advised by your medical practitioner. Any sessions with Elaine indicate your agreement and understanding of this disclaimer and are bound by that agreement.
---
Please call 0208 549 8000 to make an appointment with Elaine.
---