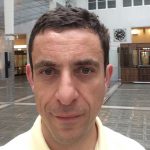 About our Therapist
Anthony Turi is a fully qualified psychotherapist, who is passionate and deeply interested in the positive benefits of both counselling and therapy. He believes that therapy offers unique opportunities for persons to get in touch with their strengths, confidence and resilience, and in so doing equip them to deal with any challenges facing them.
Description of treatment

Anthony has experience of working with a broad range of issues and of supporting his clients to feel more positive about their lives, and so bring about beneficial changes for themselves, and those around them. Your starting point might vary. Perhaps you have been feeling confused, let down, anxious, or stressed. Maybe 'depression' is a word that seems to fit. Or maybe you just seek more clarity and support about who you are, what you want, and how you can get there. Anthony has experience of helping you to bring about these changes.
Anthony trained and qualified in Gestalt Psychotherapy, a form of talking therapy which is holistic and takes account of the whole person. Past situations are understood through the way they influence our present feelings and relationships. Past traumatic memories may need to be worked through, but this is always done at your own pace and when you feel safe enough to use your own resources and the support provided by therapy. Establishing a sense of safety in therapy is always the first priority.
Anthony has experience of supporting adults to deal with:
Depression; Anxiety; Stress; Bereavement; Relationship difficulties; Work related difficulties; Trauma; Dissatisfaction in life; Recovery from Addiction; Lack of confidence; Spirituality.
Anthony enjoys his therapy practice a great deal, and values the opportunity to support clients to gain further clarity, raise awareness, and become more fully in touch with who they are, and want to be. The therapy room can be a place where positive changes begin.
Feel free to contact him, for an initial consultation session, to see if you might 'fit' in terms of working together.
Qualifications
MSc, UKCP Qualified Psychotherapist (Metanoia Institute, London)
Prices
£50-£60 for a 50 minute session.
Website
www.anthonyturi.net
---
Please call 0208 549 8000 to make an appointment with Anthony.
---