Holistic Therapist, Nutrition & Aromatherapy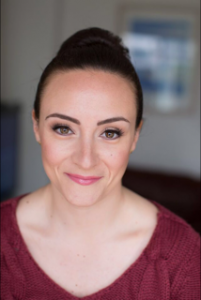 About our Therapist
Physical activity has always been part of Barbara's life from very young age but she was never taught why it was important nor what could happen if she didn't take care of herself from the inside first.
Growing up Barbara started seeing the answers to these basic questions in others, learning from their mistakes and not wishing to age in the same way with the same health problems or worse! It was when she moved to this country back in 2011 that Barbara decided to take control over her life and health by qualifying in weight loss and sport nutrition to be able to help herself and also her family. Seeing them suffering from the most common health issues nowadays like depression, stress, weight gain, high blood pressure, cholesterol etc etc gave her the drive to do more and more each time.
Today, all of Barbara's family members go to the gym or are part of some group sessions, make healthier choices but most importantely of all, they are happy.
In a way she succeeded but why stop there, so she founded HFL, Health for life an umbrella under which all aspects of health are considered and treated.
By all aspects we mean mental and spiritual as well as physical well being by adding Aromatherapy to my home for all of you.
Only now Barbara can say she can truly offer a way to help everyone whether that is in loosing weight or gaining weight or simply relaxing after a heavy day or during your lunch break.
At the end of the day, it's all about finding balance between body and mind and here at HFL there is something for everyone.
For a healthier you, choose HFL.
Description of treatment
HFL
What is HFL?
Health for Life is a company aimed to promote health of the body and mind.
Nutritional diet plans and Aromatherapy are a perfect blend in assisting you along the way of rebuilding a New You.
Our aim is to give our clients the tools to educate themselves about nutrition, healthy foods and healthy choices without food regime restrictions. By gaining some basic knowledge about nutrition you will be able to learn about the foods and drink you purchase and consume without having to relay on professionals help for the rest of your life. This way, you will be able to help not only yourself but also your loved ones.Our plans are designed for this purpose and to fit around you, your tastes and everyday commitments. As we have care about each one of our clients to leave us with the knowledge we intend to deliver, we offer:BESPOKE ALL INCLUSIVE  Nutrition + Aromatherapy
Alternatively, we offer:
DIET PLAN ONLY
FOOD DIARY ANALYSIS
CHILD NUTRITION
and
AROMATHERAPY in conjunction with your chosen plan or as a single service.
Plans described:
Bespoke all inclusive:
This plan includes ALL services offered by HFL to pamper you not only physically but also mentally and spiritually as our logo explains, there is no Yin without Yang, where only inner peace will bring outer peace and health.
Included in this plan:
• One week food diary analysis to identify food patterns, deficiencies and imbalances
• Tailored Diet plan
• Customized meals
• Meals Options
• Undestanding labels pdf
• Understanding macros pdf
• Weekly check ins, weight monitoring, meal adjustments and follow ups at no extra cost
• Unlimited emails and text for support and updates at no extra cost
• New plan every 4 to 6 weeks
• 2 Aromatherapy massage of your choice per month
*minimum 3 month
Diet plan only:
This plan is designed for those that require a diet plan only, that are unsure of what to eat but with already a basic knowledge of nutrition and labels to self sustain the plan and make your own meal adjustments.
This plan includes:
• Tailored plan
• Customized meals
• Meals options
• Understanding Macros pdf
Only email contacts are included in this plan to answer questions and ensure understanding, it is also advisable to book a review of the plan after 4 to 6 weeks.
*Discounts available for Aromatherapy massage. Contact for information.
Food diary analysis:
This plan is aimed for those that feel the need to know if their food regime is balanced and healthy.
This plan includes:
• One week food analysis entries
• Breakdown of nutrients intake for that week and compare with the correct macros
• Guidance on balanced diet
• Advices on meal options
Child Nutrition:
Research shows that a healthy child is likely to become a healthy adult if nutrition and education about food is correct from the beginning. We offer advices to parents about child nutrition from 0 to 12 years of age, assisting women during and after pregnancy to maintain a healthy diet for the baby and the mother.
This plan includes:
• Analysis of food diary of the child
• Guidance on healthier options
• Tailored meal plan
• Meal options
• Cooking advices
• Nutrition during and after pregnancy and supplementation
Aromatherapy:
Aromatherapy is an antient practice of using the natural oils extracted from flowers, bark, stems, leaves, roots or other parts of a plant to enhance psychological and physical well-being each of which will have different therapeutic qualities reason why each blend is SPECIFIC to each person. 

The inhaled aroma from these "essential" oils is widely believed to stimulate brain function. Essential oils can also be absorbed through the skin, by applying a combination of Swedesh massage, Acupunture and Neuro-muscular massage, where they travel through the bloodstream and can promote whole-body healing.
This practice follows the chakras and meridian system to stimulate or relax the interested part of the body being massaged. This art also aims to relieve from pain and improve ailments but is not meant to substitute to any medical prescription.
In some cases, a GP authorisation will be requested.
Benefits
• weight loss
• weight gain
• maintenance
• improve general health
• reduce risk of diseases
• pain relief
• relax
• stimulate
• mood enhancer
and much much more.
FAQ
• Do I have to diet to get a service? Absolutely not, you can either decide to go for the all inclusive which saves a bit of money otherwise you can have any service separate.
• Will I have to weight my food? Initially yes, after about a week or so you will be able to tell by the eye how much is what so you will no longer need to weight your food.
• Is it ok to skip a meal? Ideally you don't want to skip a meal because the calories are specific to you and needed to make your metabolism function properly again. It is not a big deal if it happens occasionally but let's not make it a habit nor feel guilty about it, its ok just get back on the plan!
• What if I cheat more than once? Initially it will be normal to have cravings for bad food and it is normal as well to fall for them more than once a week, its ok don't feel bad about it and get back on the plan.
• How long will it take for me to loose weight? This is a very subjective question, there is no right answer for all.
• Do I have to read the pdf's? Yes you have to. In these pdf's is the knowledge required for you to maintain without us :)
• Can I call you anytime? I would discourage phone calls because I might be busy with another client so I suggest to send me emails or text messages. You can contact me any time at no extra cost.
Prices
Price list for Nutrition:
Bespoke All inclusive  £250pm  (includes 2 Aromatherapy massage per month)
Diet Plan  £150pp  (£10 off 60min-90min massage & £5 off 15min-30min massage)
Diary Analysis  £50pp
Child Plan  £80pp
*Please notice that Bespoke All Inclusive is for a minimum of 3 months for results and long term success
Prices for Aromatherapy:
Full Body massage  60min  £50  &  90min  £70 & 120min £100
Upper Body massage  30min  £30  &  60min  £50
Chest massage  15min  £15  &  30min  £30
Head massage  15min  £15
Facial and Sculp massage  15min  £15  &  30min  £30
Feet and/or hands massage  15min  £15  & 30min  £30
*Please note for a massage to be effective in treating an ailment or simply for relaxation and long term benefit, a minimum of 3 sessions are required and a maximum of 6.
*Packages are available, more sessions booked higher the discount.
*Gift vouchers available and special offers.
---
Please call 0208 549 8000 to make an appointment with Barbara.
---
Holistic Therapist