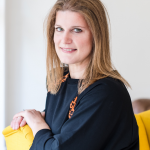 About our Therapist
La Femme Physio – Claire Rutherford BSc (Hons) MCSP MPOGP MHPC. Specialist Women's Health Physiotherapy – restoring optimal health and fitness in women throughout pregnancy, postpartum and beyond

Claire is a specialist Chartered Women's Health Physiotherapist and specialises in the treatment of urogynaecological conditions such as prolapse, incontinence and pelvic floor problems including vulval pain and sexual discomfort at any stage of a woman's life, including during pregnancy and postnatally. She also treats women suffering with back, pelvic and coccyx pain during pregnancy and postnatally. Claire's passion and specialist interest is supporting women during pregnancy as well as back to optimum health and fitness postnatally. She strongly believes that all women should be seen by a women's health physiotherapist postnatally to optimise their safe recovery and return to exercise.

Claire graduated from the University of East Anglia in 2001 with a degree in physiotherapy and has a Masters level post graduate qualification in Women's Health physiotherapy. Claire has worked at London's leading teaching hospitals, including the Royal Free and University College London hospital, as well as at the prestigious Portland Hospital. Over a five year period she established and developed a successful Women's Health Physiotherapy clinic at the Hospital of St John and St Elizabeth in London and was the Consulting Physiotherapist in a busy birth injury clinic at University College London, alongside leading Gynaecologists and consultant midwives. Referrals to this clinic were nationwide.
Claire has published articles in peer review journals and has been a visiting lecturer to undergraduate students at the University of East London on Women's Health Physiotherapy.

Claire is trained in visceral release, acupuncture and pilates in women's health as well as being a recognised Mummy MOT practitioner. She has completed many post graduate Pelvic Obstetric Gynaecological Physiotherapy (POGP) women's health courses including advanced pelvic floor courses, treating and training female runners and athletes. She is a member of the Health and Care Professions Council (HCPC). She is also a member of the professional network Pelvic Obstetric and Gynaecological Physiotherapy POGP and a member of the Chartered Society of Physiotherapy (CSP). Claire provides top quality women's health physiotherapy that is evidence based, individualised and holistic in order to achieve optimal long term health, recovery and wellbeing.
To make an appointment with Claire please call 07866 608716 or email info@lafemmephysio.co.uk
www.lafemmephysio.co.uk
---
Please call 0208 549 8000 to make an appointment with Claire.
---