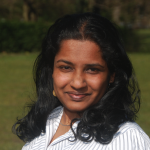 About our Therapist
My passion for Acupuncture began with wanting to be part of a process to facilitate healing and build peace within individuals. This awareness came about after almost ten years of working in several countries in the field of political and conflict analysis where I worked in various organsiations towards mitigating poverty and conflict. Consequently, I felt that rather than working in the spheres of national and international politics, working on individual inner harmony for outward wellbeing was a much more rewarding and fulfilling life path.
A fully accredited and insured member of the British Acupuncture Council, I hold a bachelor's degree in acupuncture (Bsc) from the International College of Oriental Medicine and a diploma in acupuncture (DipAcu) from the Devi Clinic in Colombo, Sri Lanka. I also obtained qualifications in teaching yoga and practicing reiki from the Sivananda ashram in India.
My working style is to combine the skills from my previous career of professionally engaging with people from diverse walks of life, with the care, sensitivity and kindness that I believe are essential for a conducive healing environment. I have experience with clinics in the UK and Colombo and am also working in a hospice, administering palliative and supportive acupuncture.
As a practitioner, this ancient art of healing never ceases to amaze me with its potential. It is so rewarding to witness how people (sometimes with chronic ailments) benefit so dramatically both physically and emotionally from acupuncture which is why I love what I do!
Description of treatment
Sessions involve:
•    Initial consultation and discussion of medical history (first treatment)
•    Acupuncture treatment of inserting very fine needles into the body for a relaxing and therapeutic response
•    Advice on nutrition, yoga postures and lifestyle changes to optimize your health and presenting symptoms
•    The option of discussing your personalised Chinese medical birth chart to highlight potential constitutional strengths and weaknesses
•    Reiki treatment where applicableAppointments usually last from 60-75 mins for the first session and 45-60mins for subsequent sessions.
http://www.acupuncture.org.uk/category/a-to-z-of-conditions/a-to-z-of-conditions.html
Qualifications

Bsc Acupuncture (International College of Oriental Medicine, East Grinstead)
DipAcu (Devi Clinic, Colombo)
Msc Violence, Conflict and Development (SOAS)
BA International Relations with Development Studies (University of Sussex)
Prices
First Treatment: £50
Subsequent Treatments: £45
Contact
To ask any questions about acupuncture or to book an appointment you can contact me on: Email: dhivya@poornamacupuncture.com or visit her website
Tel: 07881023968
---
Please call 0208 549 8000 to make an appointment with Dhivya.
---