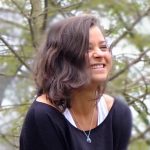 About our Therapist
Eleanor is a qualified yoga teacher offering bespoke private yoga coaching, based on the individual's needs.
Description of treatment
Whether you're looking for relaxation and meditation or a vigorous workout (or a combination of the two), Eleanor is able to adapt the practice so you can work towards your goals. Goals may include: • Improving fitness • Injury rehabilitation • Sports performance • Chronic pain • Stress reduction • Reducing risk of fallsWHY PRIVATE YOGA?Many yoga classes aim to make students better at yoga; Eleanor's aim is to improve her clients' quality of life when they're out in the world. Her study of human performance extends beyond achieving classical yoga poses, and with her private clients Eleanor is bringing in knowledge of massage and remedial therapy, exercise physiology, and mindfulness psychology to ensure they achieve real results. Not only is every person different, but each day our energies and emotions are fluctuating. With one-on-one sessions, Eleanor is able to be receptive to her client's moment-to-moment state, and adapt the way she's facilitating their practice. Because of her diverse interests in sports, performance, massage, mindfulness and philosophy, she has a sensitivity to how individuals need to practice to make progress on their path to optimal health.
---
Please call 0208 549 8000 to make an appointment with Eleanor.
---