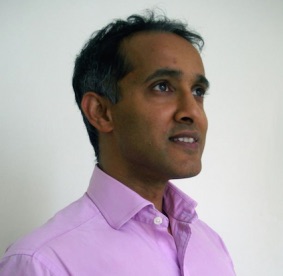 About our Therapist
Harun Rabbani is a facilitator of energy healing and rapid personal transformation. He has been steeped in science, spirituality, Martial Arts (energy work) and human psychology since 1986. Since 2007, he has been a researcher into the synergy between science and consciousness and has authored a number of books, including 'Shattering the Grandest Illusions' with a keen interest in quantum physics and healing modalities both ancient and new.
Although he has been working in the entrepreneurial fields since his teens, Harun discovered his gift of during his university years when his energy healing was used to good effect on family and close friends. However, it wasn't until he began practicing some years later with his peers and colleagues that the true nature of his skills revealed consistently powerful results for all concerned. He now integrates his own intuitive work with the opening the heart energy transmission and, therefore, offering a powerful concoction of science with ancient healing practice.
Due to his passion for creating change in the world, Harun has helped hundreds of individuals, couples and families to identify and quash the fear and survival-based programming that have prevented them from being their authentic and true selves. Until now, all of his clients have come through word of mouth as they have sought out Harun to help them through their most challenging of issues. Regardless of how deep the issues are, as long as people are willing to receive guidance and the energy transmissions, then they can be helped. Harun takes clients face-to-face in London and also works remotely via Skype with clients from all over the world.
In 1986, Harun attended one of the biggest national Kung Fu tournaments in the UK that was being hosted by Master Jeremy Yau of Lau Gar Kung Fu. Harun witnessed how Master Yau revived one of the champions after a knocked out in a matter of seconds using energy healing…and Harun was hooked. Over the next few decades, Harun learnt to harness his own energy as well as his 'opponents' through Martial Arts.
It was during his marriage breakdown that he tried out yoga and discovered the unquestionable link between energy, emotions and personal wellbeing. Harun cites yoga as saving his life during one of his darkest moments in his life. Shortly afterwards, he discovered the works of physicist and entrepreneur, Lester Levenson who was the founder of the Release Technique™, which is one of the most profound methods for letting go of life issues.
Over the next few years, Harun met many scientists, healing masters and mystics in rapid succession from whom he learnt numerous processes and methodologies. More recently, this included Paul, founder of Opening the Heart (OTH) who devised a way of being that resonated deeply with Harun. Inspired by Paul's work and undergoing his next darkest period in his life, Harun decided to meet Amma in Alexandra Palace in London. Amma, one of the most loved spiritual leaders, social activists and a living saint (considered by her followers) played a pivotal role in Harun's greatest transformation yet. Nine months later, Harun journeyed to India spend time with Amma at her ashram. Her philosophy and emphasis on love and compassion for all beings influences Harun's intuitive healing work today.

---
Please call 0208 549 8000 to make an appointment with Harun.
---