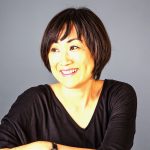 About our Therapist
Naho is a Traditional Chinese Medicine (TCM) acupuncturist who studied at City College of Acupuncture in London. She is a member of the British Acupuncture Council.
She is currently working as an acupuncture volunteer at a Cancer Centre in an NHS Hospital helping to reduce side effects from the response of the cancer treatment.
Before coming to the UK, Naho worked as a registered nurse at the University Hospital in Japan.
Naho also worked at an NHS GP surgery. She is a qualified Aromatherapist and volunteered at an NHS Hospital as a massage therapist.
Naho has an interest in the treatment of stress-related mental and physical problems such as insomnia, women's health, digestive problems and muscle tension. She is also interested in chronic and acute musculoskeletal pain.
Description of Treatment
Acupuncture
Acupuncture is the belief that illness and pain are caused when the body's Qi (vital energy) cannot flow freely. There are many possible reasons for this; emotional and physical stress, poor nutrition, infection, injuries or trauma are the most common.
Qi circulates the body through acupuncture points or meridians. Appropriate acupuncture points within the meridian are stimulated by inserting fine sterile needles which may free stagnation, increase QI or reduce excess QI to the specific area or organ. This will then re-establish a normal QI flow and balance. As a result, it triggers the body's natural healing response.
Facial Acupuncture
Facial acupuncture is based on the same principles as Traditional Chinese acupuncture.
Many studies have reported that platelets gather and stimulate fibroblasts which secrete collagen and elastin. They help to maintain tenseness and elasticity. Additionally, it increases blood flow towards any scars helping to repair any damage.
Facial Acupuncture can help with:
· Smoothing and reducing wrinkles and lines.
· Stimulating the local circulation of blood and lymph to the face, moisturising and nourishing the skin and fading of age spots
· Improving skin elasticity and skin tone around the face and neck.
· Promoting the tightening of pores
· Lifting sagging skin, puffy and droopy eyelids, brightens the eyes
Prices

Aromatherapy Massage: 60 min £60
45 min £45
Aromatherapy Gua Sha: 30-45 min £35
Aromatherapy Facial Gua Sha: 60 min £60
Reiki: 45 min £45
Initial appointment (including consultation): £60
Follow up: £50
Facial acupuncture: £70
Website: https://www.nahoacupuncture.com
---
Please call 0208 549 8000 to make an appointment with Naho.
---