Gaia healing, Massage & Group facilitation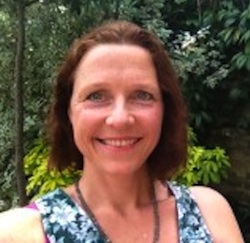 About our Therapist
Nicola has twenty years' experience in healing and massage. She discovered her natural gift for body work in her teens and later, as a young mother, she trained formally in anatomy, physiology and massage.
Her meeting with shimara kumara – the founder of gaia healing and external light – in 1995, proved highly significant, ultimately leading to years of training, mentorship and spiritual growth. The years that followed that first introduction to healing were challenging. These were the years of getting to grips with motherhood – four children arrived within six years, and the inevitable pressures those changes put on the marriage. So it was pretty chaotic on many levels.
The regular gaia healing workshops offered welcome respite from the emotional rollercoaster, mental strain and sheer physical exhaustion of the domestic front. It was here that nicola could regroup and come 'home' to herself, in a safe, non-threatening and utterly accepting environment of like-minded souls who, like herself were on a spiritual path.
Many years of healing and support followed as she released and cleared the heavy 'stuff' of ego or fear-based patterns. There is always more to do, however, every emotional release or physical clearing paves the way for a lighter, healthier and happier way of life. Ultimately, gaia healing work raises consciousness and brings more love and joy into our lives. It is this kind of support during life's struggles and health challenges that nicola is now offering to the wider community with the aim of helping and supporting people through difficult times.
Although still fully committed to taking care of her family, nicola's sights are very much focussed on bringing this powerful healing work to Kingston's community. She has recently qualified as a registered teacher of gaia healing and is looking forward to offering her first teaching workshop in kingston in January 2015.
Nicola says,'there are so many people struggling at the moment with tremendous health challenges and big emotional issues. This is where gaia healing can be a huge support. Often it is when we are at our lowest ebb, we feel least able to help ourselves and get the care and help we need. I would urge anyone who is feeling low, under stress or in any kind of pain – to try gaia and discover how much better they can feel after just one treatment. especially now, while this pre christmas offer is both available and affordable for pretty much everyone'
What Nicola's clients have said:
"I approached Gaia with a fair amount of skepticism, however Nicola has been a revelation to me. I left each session feeling relaxed yet energised, ready to tackle life. I tend to suffer from anxiety and Gaia has succeeded in giving me back a sense of peace. If you want to resource yourself then Nicola can definitely help." Elenore
"While having regular sessions I felt much more energetic, relaxed, content and whole – even my husband approved me coming for healing because he noticed the change in me!" Jo
"I have had chronic pain in my back for the past 20 years. It has been particularly bad this year, yet I am pleased to say that I have been in a particularly good place with my back since my last gaia healing. Some mobility has returned and I was pain-free for 5 days following my healing" Erin
My shoulder stopped hurting after months of pain for the whole time I was having healing. I felt much less tired and achey and my periods which I used to dread every month, have been considerably lighter and 'normal' after the regular Gaia treatments" Jo
Prices:
Single 1 hour treatment £45
Course of 4 treatments £160 (£40 per session)
Course of 6 treatments £210 (£35 per session)
Gaia Workshops:
You can learn more about Gaia healing and become attuned to the energy to treat yourself, your family and others by attending one of the Gaia workshops held regularly here.
Gaia One Day Foundation Course £140
This initiation, or 'attunement' opens up the higher chakras so that one becomes a pure channel for the highest healing energies.  These then come through the hands to give healing to self and others. You will learn about the human energy field and practice giving healings, as well as receiving one yourself. The energy initiation activates a 21 day cleansing cycle, which begins to clear away your own blockages, thus helping you to become a clearer channel for the healing energy to come through you.
Gaia Advanced Course £190
This attunement further increases your healing potential and brings through yet more energy. You will learn symbols for amplifying the energy and how to use them in many different ways, including remote healing. Each Gaia attunement helps you let go of old patterns, balance emotions and bring you to a higher vibrational frequency, thereby raising your level of consciousness.  A further 21 day cleansing cycle is activated, which again works through each of the 7 chakras.
For all bookings call 07753 562043
---
Please call 0208 549 8000 to make an appointment with Nicola.
---