Sound Healing and Bach Flower remedies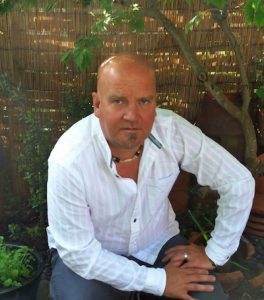 About our Therapist
Peter has been a sound healer for many years now. As a professional musician he had seen firsthand the impact of sound on the human condition. This intrigued him and so he wanted to pursue this observation further to see how sound actually affects the energetic and physical body. It was Nikola Tesla whose quote was particularly relevant when looking into the field of sound and sound healing, which was 'If you want to find the secrets of the universe, think in terms of energy, frequency and vibration.' So everything is related to sound, and when we look at cymatics, we see that each frequency creates a different physical shape when put through a metal plate with sand spread on top of it. The higher the frequency, the more complex the pattern becomes. We as humans have trillions of functions happening in our bodies every second, and these functions can be directly affected by a certain frequency of sound. We can easily see that in our world with sounds that can be either pleasing, or detrimental to our sense of well being.
Description of treatment

Sound ToningPeter has studied vocal toning under the tutelage of Jonathan Goldman's school and is a member of the Sound Healers Association. Peter has been using Toning techniques on himself and in groups for many years now with some remarkable outcomes. This practice really helps you to get in touch with the real you inside. This enables the body to reconnect to its natural resonance, which is where the healing takes place. Most of us today live life styles that do not allow us to reconnect with ourselves and we often need some help to find this inner vibration. Stress, anxiety and fear all mount up in the body without us becoming aware of it, and these negative vibrations will often appear as a physical ailment at some time in the future if left unchecked. Sound toning is an excellent way of helping to relieve these and other symptoms.Tuning forks
Peters' sound toning techniques mainly concentrate on the chakra system, which is where the main energy centres of the body are. Peters' use of tuning forks is directly targeting these areas, together with the outer seven frequencies of the body, which are the Solfeggio tones. Peter can analyse the condition of the chakra system and the outer energy body by hearing the bodies resonance when bathed in these sounds, and can help to rectify the dissonance that is occurring. The solfeggio tones can be quite specific to what is happening in your life at the present moment in time, and Peter has had some remarkable results from these tuning forks alone, which is very helpful to the person undergoing the treatment. Feelings of clarity, wellbeing and relaxation can all be expected when undergoing one of Peter's treatments, and an open mind to all the possibilities is also helpful. Peter was taught the Solfeggio tones by Neil Gilson, who is another accomplished Sound Healer.
The Chakra System
Chakra is a Sanskrit word meaning spinning wheel and thousands of years ago, natural healers realised there were energy centres in the body where energy lines met. The easiest to understand is the solar plexus, which has a mass of nerve endings gathered there and a chakra known as the solar plexus chakra. Actually our chakra system is closely related to our endocrine system, and both their functions are similar. This is our energy body which we can't see, and if you train with it, you will understand that having your chakra system working properly really does release your full potential. Unfortunately our way of life in the west has ignored this important part of our existence. Having a vibrant chakra system can lead to a vibrant life. You can release your power, your passion, your creativity, your empathy and compassion and your insight and vision when your chakra system is tuned and working properly. Peter's session can recognise problems in the chakra system and help to tune them to their full potential. In most cases this is not an overnight fix though. Because we have left the chakra system unchecked for most of our lives, they are often – we might say – flat and in need of a charge.
The Solfeggio Tones
These tones have a controversial history, but having worked with them, Peter has found them to be accurate with the majority of people he has treated. These frequencies are detected outside of the body and it becomes a beautiful and relaxing experience just to hear them around you. Any dissonance can be detected when using these tones near the body and can be diagnosed as a problem occurring in the physical world. Having worked with these tones for several years now, Peter is very passionate about helping other people experience these healing sounds. Once we heal ourselves, we begin to heal the world. When many more of us start to understand this simple statement, we will see a world moving into the paradise that IT was designed to be. The Solfeggio tones can help you access your higher consciousness, giving you the vision to help you live a more noble life. Solfeggio tones can help you facilitate change, transform yourself, return to spiritual order and awaken you to your perfect state. Being human in itself is not easy at the best of times, and these tones can help you to find your natural resonance and spiritual path.
Tibetan Bowls
Peter also uses Tibetan Bowls during his treatments together with deep breathing, so you can connect deeply with these beautiful ancient sounds. Humans have used these sounds for thousands of years to bring them back into the healing zone that our bodies are designed for our bodies are amazing and created to be in optimum health. The use of sound can help you find your natural resonance and live a more healthy life. The Tibetan Bowls are a sound bath that is also pleasing to be immersed in, and really can help the body to relax and be at ease.
Bach Flower Remedies
Peter has also trained to be a Bach Flower Practitioner where he has reached level two. This again is vibrational healing of the emotional kind. Dr Bach found that certain essences, or vibrations, of flowers can heal certain emotions that humans experience. For instance if you have a fear of the unknown, you would use the flower Aspen to help you control this fear. This could be mixed with one or more flower essences if needed, which gives a recipe of healing which is purely for the individual. Bach remedies are another service that Peter can offer if there are any pressing emotional issues that need to be addressed. It all comes under the banner of vibrational healing.
What to expect from a session
Firstly you should feel relaxed. This is the best condition the body can be in for it to perform its many functions of healing. Because of the way we live today, with negative information, stressful working lives and divisions everywhere, we tend to live in our flight or flight mode much of the time. This is very tiring on the body and can lead to manifestations of physical ailments. Sound healing sessions can help you ease into the rest and digest state, where the body is in its optimal state for healing. Sound healing can also tune up the major energy centres of the body, to make you feel more vibrant. This can be particularly helpful when you are feeling depressed, suffering from grief or completely stressed out. Sound healing can also help with lack of confidence, difficulties in finding your vision and creating the life you want to live.
Prices
Peter charges £35 per session. Peter offers 4 sessions at a discounted rate of £25 per session (Paid in advance) This is highly recommended as it will be a real recharge to your energy body. Peters' aim is to help you experience the power of sound for yourself.
What Peter's patients have said

Peter's energy is beautiful and extremely powerful to be around. I felt lighter, more peaceful, and clear after my session. The whole experience was wonderful and if I could do it each week, I would Jump at the chance. I cannot recommend Peter highly enough. Peter is a talented and Gifted healer.'
Lou Lebentz – Dorking.
The sound healing session with Peter was a completely new experience to me with a wonderfully relaxing outcome. Peter is passionate and knowledgeable about sound healing and it shines through. Really amazing. I would highly recommend a sound healing session with Peter.'
Petra Tourunen. Surbiton.
The sound healing treatments I have been receiving has opened a channel back to some happy memories since the passing of my husband. The treatments have given me huge feelings of well being, and I really look forward to my sessions. I feel dreamy for the whole day afterwards.'
Elizabeth – Thames Ditton.
'As a yoga teacher, I have experienced many types of healing, self-healing and Reiki. I found Peter's superb sound healing to be a unique session which left me floating as light as a feather in a very peaceful place. Peter is a wonderful and extremely knowledgeable healer who really knows what he is doing with his lovely energy. I would recommend Peter to anyone seeking a deeply effective and  long-lasting Treatment '
Neda, Surbiton.
'There is definitely something to this'.
Michael. Surbiton.
Further information
Please visit Bright Beings for further information on the services Peter offers with his partner Jan. Bright Beings offer many ways for you to access the true you. You can find their website here.
http://www.brightbeings.co.uk/index.html
Further information on Sound Healing
The Sound Healers Association
http://www.soundhealersassociation.org/
Dr Jonathan Goldmans website 'Healing Sounds'
https://www.healingsounds.com/
Dr John Beaulieu's website 'Biosonics'
http://www.biosonics.com/home.php
Attuned Vibrations
https://attunedvibrations.com/
---
Please call 0208 549 8000 to make an appointment with Peter.
---