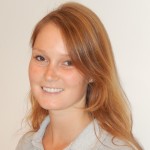 About our Therapist
Rianne is the newest physiotherapist working at Kingston Physiotherapy Clinic. She is able to treat multiple injuries and symptoms of varies conditions, such as neck and back pain, whiplash, sports injuries, work related injuries and rehabilitation after surgery and fractures.
Rianne was born and grew up in the Netherlands, where she studied to become a physiotherapist. She completed her qualification with honours 
in 2011 and then began working as a full time physiotherapist in Holland, 
before she decided to follow her heart and move to London in the summer 
of 2014.
As Rianne can't ignore her Dutch origin, you might spot her on a white dutch bike riding through Kingston and surroundings or on one of her runs through Bushy Park as she loves to be out for a nice stroll or run enjoying the green parks.
So, whether you are young or elderly, very active and sporty or lead a more sedentary lifestyle, Rianne welcomes everyone who suffers from any conditions affecting your muscles, joints, bones or nerves and will make sure that every treatment will be individually tailored to suit your needs.
If you have any questions, don't hesitate to contact Kingston Physiotherapy Clinic through our website www.kingstonphysiotherapy.com, by phone 020 8541 5556 or just drop by at Kingston Natural Health Centre.
QualificationsBSc Physiotherapy (Hons)
---
Please call 0208 549 8000 to make an appointment with Rianne.
---