Craniosacral Therapy, Deep Tissue Massage, Indian Head Massage, Integrative Bodywork, Massage, Myofascial Release, Pregnancy Massage, Sports Injury Therapy, Sports Massage, Swedish Massage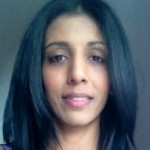 About our Therapist
Sangi is an Advanced Level Sports Therapist (L5), Deep Tissue and Sports Massage Specialist, Craniosacral Therapist, Anatomy, Physiology and Professional Massage Lecturer and Meditation, Mindfulness and Stress Reduction Trainer.  She has worked in complementary medicine for the last 11 years. She trained primarily in Sports Massage and Injury Management at  St Mary's University, Craniosacral Therapy at The College of Craniosacral Therapy and Sports Therapy via The Sports Therapy Organisation/Active Health Group.
Sangi previously suffered from debilitating neck pain, gut problems and chronic fatigue before finding a solution to these problems through a combination of hands on therapies. Inspired by her experiences of recovery; she set about to train specifically in these modalities and then fashioned an approach to combine them in professional practice. Her unique treatment approach fluidly combines Craniosacral Therapy, Deep Tissue Massage, Sports Massage and Sports Therapy allowing her to help a broad spectrum of problems for people of all ages and needs. It is her experience as both a former patient and now therapist that allows her to really understand and apply what she knows to best help you.
She is noted for her heightened ability to tune into your body to identify all contributory factors to where the problem or problems are occurring, establish their root causes and use a variety of techniques to achieve the desired results.  Many of Sangi's clients have commented that she just instinctively knows how to hit all the right spots. If you are tired of treatments that are non specific and don't hit the right spots deeply enough, then Sangi's treatments may be the right ones for you.
Sangi offers an up to free 10 min chat by phone to talk through your needs without obligation. Please call her on 07735 258 465. The first session is usually 1.25 hours in order to fully assess your needs and to ensure the right treatment for you starts from the very first session. The length of treatment for future is your choice.
Price List
1ST SESSION:-
1.25 hours/75 mins £75 /£70 (if fully paid in advance)
(50% deposit to be paid in advance 1st appointment only)
FOLLOW UPS:-
1 hour £60
1.25 hours £75
1.5 hours £90 Sangi is here on:
Wednesdays 3-9 pm
Sundays 1.15-5.15 pmAppointments outside of these hours when available can be organised by request where possible.For more information about any of the therapies Sangi's uses or about Sangi please go to:
www.transformingyourhealth.co.uk
What Sangi's patients have said
"Sangi takes time to understand the root causes of the patient's
problem and uses varying treatments to achieve the desired result.  She is
very personable and demonstrates a wide knowledge of different therapies which
she applies appropriately.  She is incredibly intuitive often identifying the
problem before I have said anything!
I have seen many massage therapists over the years and I can truly say that
Sangi has been the most talented therapist I have met."  Matt C.
---
Please call 0208 549 8000 to make an appointment with Sangi.
---