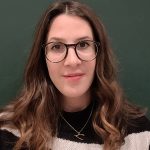 About our Therapist
Stephanie is a BACP registered counsellor with a Diploma in Therapeutic Counselling. She can offer help to adults (18+) to understand and overcome a range of emotional difficulties. She has worked both in private practice and the voluntary sector. She can offer counselling both in person and online. She specialises in relationship issues and is in training to become a couples counsellor with Relate.
Personal approach
Stephanie is an integrative relational counsellor which means she draws from several theoretic approaches, tailored to you as a client. She has a particular interest in working with young professionals going through a change of life crisis and adult ADHD.
Description of treatment
Do you feel you are entering a period of transition and change? Has a significant relationship ended turning your life upside down? Are you struggling to achieve your ambitions in your career and feel stuck? Have you reached a breaking point or burnout? Are you having a crisis of identity? Have you recently become a parent and are struggling with the shift within yourself and your relationship? Whether you are in your 20's, 30's or 40's the pressure from family, friends, society and yourself can feel crushing. How do you navigate becoming who you want to be, when you are so aware of who you think you should be? These emotional pressures can begin to manifest physically in anxiety, depression, OCD, insomnia and chronic pain. She can help you to make sense of this and put an end to these painful experiences.
Areas of treatment
● ADHD
● Anger
● Anxiety
● Attachment Disorder
● Bereavement
● Burnout
● Childhood abuse
● Codependency
● Depression
● Emotional Abuse
● Identity Issues
● OCD
● Panic Attacks
● Parenting
● Postpartum Depression
● Relationship issues
● Self-Esteem issues
● Stress
● Work Related issues.
Prices
Her fee is £55 for an initial 50 minute session and £55-70 for ongoing counselling. She offers both short term (6 weeks) and long term counselling. A limited number of concessions are available for students and low income.
She offers a free, no obligation 15 minute call via phone or video for you to get a sense of how you may work together.
Please feel free to phone or email her with any questions you may have or have a look at her website: www.stephanietaylortherapy.com
Email: stephanietaylortherapy@gmail.com
Telephone: 07912034815
Stephanie offers a no obligation 15 minute consultation via video call or over the phone. This is to help you decide if you are a good fit to work together. My job is to welcome you into a safe space and help you to feel at ease. This means you won't feel judged by her and she will give you the time and space you need to process. Therapy is not about asking a professional to give you the answer to your problems. Instead, it is a partnership where we work together to achieve what you hope for.
She is fully insured and is registered with the Information Commissioner's Office (ICO) to process personal information.
The first step into therapy can feel uncertain, even if you have experienced it before and opening up to a stranger is never an easy task. For this reason,
---
Please call 0208 549 8000 to make an appointment with Stephanie.
---