About our Therapist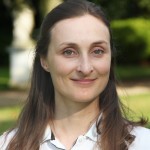 Gabrielle is passionate about helping people understand their body and improve their health.
She trained in Osteopathy at the Surrey Institute of Osteopathic Medicine (part of the University of Surrey), graduating with a first class Bachelor of Science degree.
She is continuing her training with paediatric osteopathy, western medical acupuncture and clinical practice in Classical Osteopathy. She also holds an ITEC qualification in Sports Massage.
She enjoys treating a wide range of patients with varied health challenges.
Originally from France, Gabrielle previously worked for large technology and financial companies in France, America and the UK and has experienced first-hand the stresses of corporate life. These past experiences allow her to better understand the challenges faced by many of her patients and how to help them restore their health.
Gabrielle's favourite past-times are reading, photography, walking in the beautiful British countryside, dancing, cycling and yoga.
She is available for consultation in Osteopathy or Sports Massage at the Heath Zone on Tuesday mornings and Friday afternoons. You can book an appointment at the Health Zone clinic by telephone or online.
Description of treatment
Osteopathy is a drugless system of healing or medicine devised by an American medical doctor, A.T. Still, in 1874 after becoming disillusioned by the remedies of the medical system of the times.Osteopaths believe that the body has the ability to heal itself and thrive for health. They use manual therapy to remove any obstruction to the whole body's ability to heal.
During the initial consultation, you will be asked about your current issue, general health, medications and any previous medical history. This is to ensure a safe examination and treatment.
After the history, you will be asked to undress to your underwear or shorts in order to assess your posture and movements. Some orthopaedics or other medical tests may also be performed if appropriate to determine what may be going on and to decide on an appropriate treatment plan.
Helpful tips:
– Avoid alcohol and having a large meal before the consultation.
– Please remove any jewellery
– Arrive in plenty of time as late arrival may result in reduced treatment time
– Please switch off your mobile phone to avoid disruption
– After the treatment, drink plenty of water and avoid strenuous activity
Qualifications
BSc (Hons) in Osteopathic Medicine, University of Surrey, 2015
Member of the General Osteopathic Council, 2015
Member of the Institute of Osteopathy, 2015
Foundation course of the Institute of Classical Osteopathy, 2013
Sports Massage ITEC qualification, 2012
---
Please call 0208 549 8000 to make an appointment with Gabrielle.
---