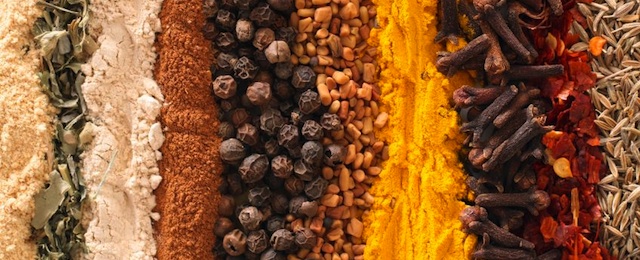 Most of us have a number of spices in our kitchen cupboards, but how often do you use them? Did you know that spices have a long list of health benefits and have been used for thousands of years as a preventative medicine and cure. 
Spices are well recognised in keeping your blood pressure and cholesterol down, thus helping maintain a healthy heart and help prevent and manage diabetes. With anti inflammatory and anti bacterial properties spices can be helpful in preventing and treating diseases from cancer to Alzheimer's. Spices are also a powerful antioxidant successfully used in detox programmes and for treating skin conditions. 
Treat your taste buds and health to an exotic boost with Kingston Natural Health Centre's top 10 Spices from around the world. In the forthcoming weeks we will look at each one in more detail with tips and recipes on using them:
Turmeric

Chillis, Cayenne pepper and Paprika

Ginger

Cinnamon

Fenugreek

Cloves

Cumin

Black Pepper

Corriander

Cardomom
And you thought they were just an aphrodisiac!
If you would like advice on nutrition or would like to make an appointment please call Kingston Natural Health Centre on 0208 549 8000 
[social_share]