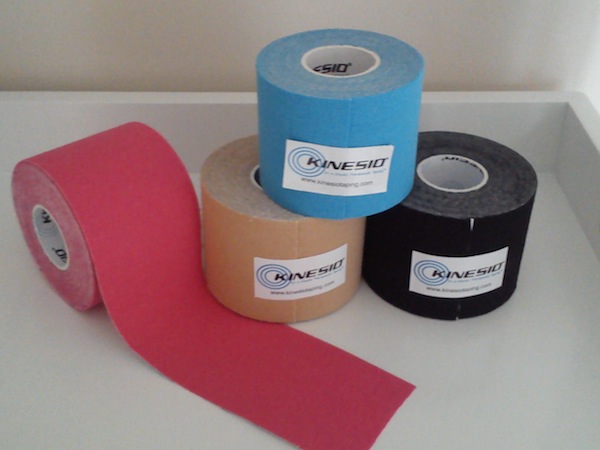 We would like to introduce you to Kinesio Taping and Serge Tampakakis is giving away free Kinesio applications at Kingston Natural Health Centre. So here is what it is: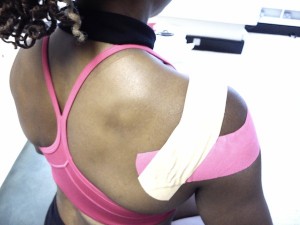 Kinesio Taping is a therapeutic taping method using a uniquely designed elastic tape. The tape is latex free, made of 100% waterproof cotton fibers which  allow the skin to breathe.
It is highly durable and the average application can last from 3-5 days. The elasticity and thickness of the tape are very similar to the skin which allows complete range of motion without restricting circulation or movement.
Kinesio tape was made a highly visible appearance during last summer's Olympics, with a number of athletes wearing a variety of tape applications. More recently, Kinesio taping has been adopted by football and rugby players, gaining a wider audience in the world of sports.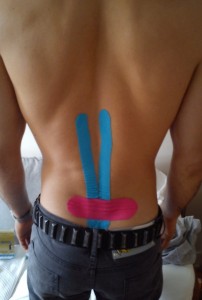 The Kinesio tape can be applied in a number of different ways depending on the injury/condition, area of application and what we are trying to achieve.  The tape can help alleviate back pain, provide stability on shoulder and knee joints, reduce the symptoms of wrist and elbow RSI, facilitate recovery after muscle injuries, and assist on myofascial release as an additional tool to deep tissue massage.
More specifically,  can assist with clinical conditions such as tendonitis, bursitis, frozen shoulder, epicondylitis, sciatica, strains, sprains / whiplash, carpal tunnel, scoliosis, plantar fasciitis, Morton's neuroma and many more.
Book a 60 min Deep Tissue / Raynor Massage and get a kinesio application for free (normally £15). Offer ends 28th February 2013
For more information visit http://www.kinesiotaping.co.uk or feel free to contact me at serge.therapia@ymail.com | 075 27 075 964
Or if you would like to book an appointment please contact Kingston Natural Health Centre on 0208 549 8000.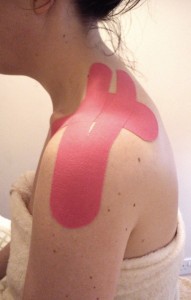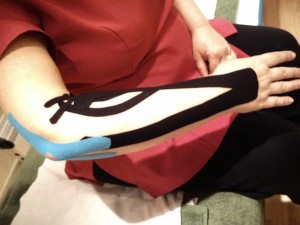 Kinesio in practice, images explained:
Top Image – Mechanical correction for shoulder instability.
2nd Image – Back inhibition/support (blue) with pain relief (red) – overworked muscles.
Above Left – Space correction and stabilisation on elbow with extra application for assistance with inflammation after injury on extensor digitorum.
Above Right – Postural correction with shoulder stabilisation & trapezius inhibition.