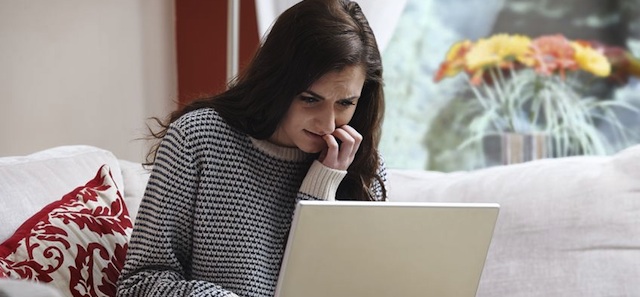 Do you know what to do if you suspect your child is subject to cyberbullying?
Friday saw the sad but colourful funeral of Hannah Smith, the 14 year old who hanged herself after being tormented by cyber bullies.  As parents, cyber bullying was something that didn't exist when we were children.  However today it can be a challenge for as many as 1 in 3 children and the law is yet to catch up with the rapid growth of the technology.  Yet, there are steps we can take to help guard our children from such potentially damaging situations, so if you are parents of a teenager who relies socially on texting and or the internet then here are some tips on respecting their privacy but keeping them safe:
Set down rules for mobile phones and computers that suit you as a family, you may choose to have one computer in your front room and no other access to the internet in the house.
Make sure your child is aware of the potential dangers of the internet. Children aren't always aware of these dangers, particularly the younger ones.
Discuss cyberbullying with them and ask them to think about what they would do if it happened to them.  Make sure they understand there are people they can turn to even if they don't want to confide in you, suggest some alternative people they trust.
Research the sites they tend to use and find out how they work.  If they will allow you to connect with them you might be able to pick up early signs if they do get bullied.
You may suspect that your child is being bullied in some way, children often have a change in behaviour, their friends, eating habits and mood etc. when they are bullied.
Some children turn to self harm if they feel they have no one to go to so if you child starts covering up for no reason then you may want to talk to them.
It is important to take any claim of bullying seriously, no matter how small, be sympathetic and try to help them find a solution
Help your child put things into perspective and realise who the important people are in their life
Block any bullies from your internet pages at the first instance and notify the owner of the site where the bullying is taking place.
Never respond to a bully but keep all written attacks as evidence should you need it
If you think your child is at risk then talk to the police
If your child has been bullied even after it is resolved try to talk to them from time to time to make sure there are no repercussions or it doesn't begin again.
If you or your family have experienced bullying, we have support available at The Centre, please call 02085498000
This week we have the following treatments:
Monday 19th August
Food and allergy testing with Cathy Foley
nutrition advice with Cathy Foley  
Hypnotherapy with Emily Harbrecht 
NLP with Emily Harbrecht
Slimming massage Better than Lipo with Hayat el Hamri 
Acupuncture with Miguel Freitas
Chinese herbal medicine with Miguel Freitas
Moxa with Miguel Freitas
Tuesday 20th
Acupuncture (including IVF, fertility and pregnancy oriented) with Victoria Busk
Reflexology with Victoria Busk
Sports massage with Jambaal Jeng 
Back and neck pain therapy with Jambaal Jeng
Visceral manipulation with Jambaal Jeng
Myofascial release with Jambaal Jeng
Swedish massage with Hilary Insall 
Remedial massage with Hillary Insall
Lymphatic drainage with Hilary Insall  
Slimming massage Better than Lipo with Hayat el Hamri
Wednesday 21st
Colonic hydrotherapy with Enrida Kelly 
Acupuncture (including IVF, fertility and pregnancy oriented) with Victoria Busk
Reflexology with Victoria Busk
Homeopathy with Shauna Estrada
Counselling with Claire Deane 
CBT with Claire Deane
Therapeutic Massage with Dorthe Nielsen
Relaxing Massage with Dorthe Nielsen
Body Talk System with Yvette Smith 
Osteopathy with Gillian Lonsdale 
Naturopathy with Gillian Lonsdale
Sports massage with Jambaal Jeng 
Back and neck pain therapy with Jambaal Jeng
Visceral manipulation with Jambaal Jeng
Myofascial release with Jambaal Jeng
Soft tissue remedial therapy with Kelly Shirley 
Sports massage with Kelly Shirley
Thursday 22nd
Colonic hydrotherapy with Mandy Jones  
Deep tissue massage with Serge Tampakakis 
Raynor massage with Serge Tampakakis
Kinesio taping with Serge Tampakakis 
Sports massage with Jambaal Jeng 
Back and neck pain therapy with Jambaal Jeng
Visceral manipulation with Jambaal Jeng
Deep tissue massage with Melanie Howlett
Holistic and advanced clinical massage with Melanie Howlett
Myofascial release with Melanie Howlett
Advanced sports stretching with Melanie Howlett
Reiki with Melanie Howlett
Friday 23rd
Colonic hydrotherapy with Joanie Graff
Sports massage with Jambaal Jeng 
Back and neck pain therapy with Jambaal Jeng
Visceral manipulation with Jambaal Jeng
Myofascial release with Jambaal Jeng
Hypnotherapy with Urmila Lewis 
Clinical NLP with Urmila Lewis   
Acupuncture (including IVF, fertility and pregnancy oriented) with Victoria Busk
Reflexology with Victoria Busk 
Saturday 24th
Colonic Hydrotherapy with Enrida Kelly
Physiotherapy with Ravi Shanker
Counselling with Phil Hartland  
Cognitive, behavioural, psychodynamic therapy with Martyn Bignold 
Slimming massage Better than Lipo with Hayat el Hamri 
Chiropractics with Robert Lloyd 
Bowen Therapy with Daniel Dollin
Acupuncture with Daniel Dollin
Reflexology with Daniel Dollin
Aormatherapy with Cindy  Mollineau
Reflexology with Cindy  Mollineau
Bamboo massage with Cindy  Mollineau
Cognitive, behavioural, psychodynamic therapy with Martin Bignold
Sunday 25th July
Therapeutic Massage with Helen Rennie
Art Therapy with Helen Rennie
Aromatherapy with Helen Rennie
Counselling with Helen Rennie
Crystal Healing with Helen Rennie
If you would like to know more about any of our therapies please conatct us on 0208549800 or 07436 070 832
[social_share]