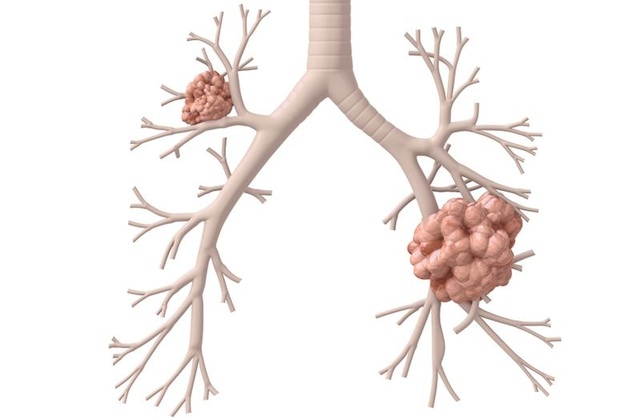 Lung Cancer Know the Symptoms, It's not just smokers at risk!
Cancer Research UK have stated that although lung cancer in men has fallen by 47%  since 1975, in women it has risen by a massive 73%
Lung cancer is the 2nd most common cancer in the UK but is the biggest killer of all the cancers. In 2011 in the UK there were 43,500 cases of lung cancer with 35,200 deaths.  
Less than 10 % of people diagnosed with lung cancer survive more than 5 years although survival rates are higher the earlier it is caught.  It is not always easy to detect lung cancer as 25% of people are diagnosed before they display any noticeable symptoms.  In this case it is found on a chest x-ray or CT scan taken for other reasons.  
Not all lung cancer signs and symptoms are obvious to the disease but you should go and get yourself checked out if you experience any of the following
A chronic cough that won't go away after a few weeks
Coughing up blood
Repeated infections such as bronchitis & phneumonia
Wheezing
Fatigue
General breathlessness and breathlessness after exercise
A hoarse voice
Loss of appetite 
Difficulty swallowing
Ache or pain in the shoulder, back, chest or arm
Of course as with all these diseases we believe prevention is better than cure so eating a diet high in fresh fruit and vegetables (organic is best) along with regular exercise at least 30 minutes 5 times a week is a good start.  If you are a smoker or are regularly exposed to second hand smoke then you should work on giving up and avoiding such exposure. Get your home tested for radon as high levels of radon have been proven to cause lung cancer. Wherever possible avoid exposure to carcinogens, such as chemicals at work , traffic fumes etc.  
If you would like any help in making your environment a healthier one at The Centre we have many practitioners who cover a wide range of natural health that may be able to help you.  Call on 02085498000
Next week in The Centre we have:
Monday 24th March
Allergy Testing with Cathy Foley
Food Sensitivity Testing with Cathy Foley
The Bowen Technique with Warren Gin
Osteopathy with Alan Gin
Unitherapy with Alan Gin
Cranial-Sacral Therapy with Alan Gin
Counselling with Phil Hartland
Sports Massage with Sangeetha Anantha
Cranial-Sacral Therapy with Sangeetha Anantha
Sports Injury Therapy with Sangeetha Anantha
Swedish massage with Hilary Insall 
Remedial massage with Hillary Insall
Lymphatic drainage with Hilary Insall 

Tuesday 25th
Acupuncture (including IVF, fertility and pregnancy oriented) with Victoria Busk
Reflexology with Victoria Busk
Sports massage with Jambaal Jeng 
Back and neck pain therapy with Jambaal Jeng
Visceral manipulation with Jambaal Jeng
Myofascial release with Jambaal Jeng
Podiatry with Susan Emami 
Swedish massage with Hilary Insall 
Remedial massage with Hillary Insall
Lymphatic drainage with Hilary Insall
Counselling with Jayne Ritchie
Physiotherapy
Wednesday 26th
Acupuncture (including IVF, fertility and pregnancy oriented) with Victoria Busk
Reflexology with Victoria Busk
Osteopathy with Gillian Lonsdale
Cranial Osteopathy with Gillian Lonsdale
Hypnotherapy with Sara Wolff
Neuro-Linguistic Programming with Sara Wolff
Energy Healing with Sara Wolff
Spiritual Response Therapy with Sara Wolff 
Counselling with Jayne Ritchie 
Counselling with Phil Hartland
Thursday 27th
Colonic Hydrotherapy with Mandy Jones
Body Talk System with Yvette Smith
Homeopathy with Dr Muthulingam
Acupuncture with Dr Muthulingam
Massage with Dr Muthulingam
Counselling with Jayne Ritchie
Counselling with Michael Cohen
Cognitive behavioural therapy with Michael Cohen
Hypnotherapy with Michael Cohen
BodyTalk System with Yvette Smith
Homeopathy with Shauna Wyldeck-Estrada
Friday 28th
Sports massage with Jambaal Jeng 
Back and neck pain therapy with Jambaal Jeng
Visceral manipulation with Jambaal Jeng
Myofascial release with Jambaal Jeng
Hypnotherapy with Urmila Lewis 
Clinical NLP with Urmila Lewis   
Clinical Psychology with Dr Sally Field
Assessment  and psychology treatment with Dr Sally Field 
Ultrasound Scans with Rachel Bailey
Acupuncture (including IVF, fertility and pregnancy oriented) with Victoria Busk
Reflexology with Victoria Busk
Neighbourhood Midwives
Swedish Massage with Seanne Campbell
Hot Stone Therapy with Seanne Campbell 
Physiotherapy
Saturday 29th
Colonic Hydrotherapy with Shemila Tharani
Physiotherapy with Ravi Shanker
Chiropractics with Robert Lloyd 
Hypnotherapy with Helen McIlreavy
pregnancy and ayrvedic massage with Magda Oliveira
Ayurvedic acupressure with Magda Oliveira
Lymphatic drainage with Magda Oliveira
Reflexology with Magda Oliveira 
Fertility Reflexology with Magda Oliveira
Remedial massage with Magda Oliveira
Sports massage with Jambaal Jeng 
Back and neck pain therapy with Jambaal Jeng
Visceral manipulation with Jambaal Jeng
Myofascial release with Jambaal Jeng
Counselling with Jayne Ritchie
Sunday 30th
Colonic Hydrotherapy 
Therapeutic Massage with Helen Rennie
Art Therapy with Helen Rennie
Aromatherapy with Helen Rennie
Counselling with Helen Rennie
Crystal Healing with Helen Rennie

If you would like to know more about any of our therapies please conatct us on 0208549800 or 07436 070 832
[social_share]