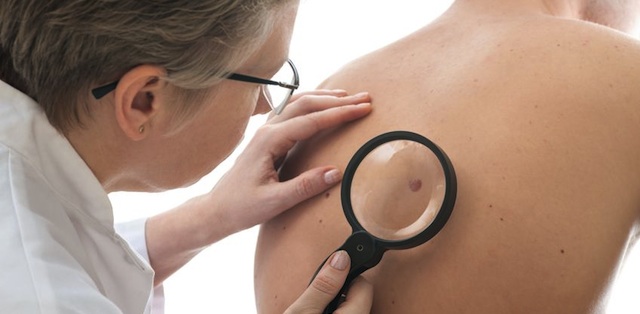 Statistics tell us that men with skin cancer are 70% more likely to die from the disease than women.  Results show that as many woman develop malignant melanomas than men.
We all know that sunburn can be a contributing factor in skin cancer but also vitmanin D absorbed from the sun, when regularly taken in moderation, is also a way of preventing cancer of all types. The best way to take the sun, if possible is for 10 to 15 minutes a day without suncream, being careful not to burn.
Foods rich in Vitamin C, Beta Carotene and Omega 3 amongst others are great for helping prevent the onset of cancer. Below are 10 things to include into your diet to help prevent skin cancer:
Leafy green vegetables
Tomatoes
Citrus fruit (particularly the peel)
Turmeric
Pink grapefruit
Walnuts
Oily fish
Green tea
Grape seed extract
Flax seeds/flax seed oil
Adding in these things to your diet can help cut your risk of developing skin cancer along with keeping alcohol intake low, cutting out processed and refined foods, getting regular exercise and having a positive mental attitiude. 
If you would like to know how any of our therapists  might be able to help you in your quest to remain healthy then please don't hesitate to call us on 0208 549 8000
 Coming up in The Centre we have:
Monday 26th August
Food and allergy testing with Cathy Foley
nutrition advice with Cathy Foley  
Hypnotherapy with Emily Harbrecht 
NLP with Emily Harbrecht
Slimming massage Better than Lipo with Hayat el Hamri 
Acupuncture with Miguel Freitas
Chinese herbal medicine with Miguel Freitas
Moxa with Miguel Freitas
Tuesday 27th
Acupuncture (including IVF, fertility and pregnancy oriented) with Victoria Busk
Reflexology with Victoria Busk
Sports massage with Jambaal Jeng 
Back and neck pain therapy with Jambaal Jeng
Visceral manipulation with Jambaal Jeng
Myofascial release with Jambaal Jeng
Swedish massage with Hilary Insall 
Remedial massage with Hillary Insall
Lymphatic drainage with Hilary Insall  

Wednesday 28th
Colonic hydrotherapy with Enrida Kelly 
Colonic hydrotherapy with David Taylor
Acupuncture (including IVF, fertility and pregnancy oriented) with Victoria Busk
Reflexology with Victoria Busk
Homeopathy with Shauna Estrada
Counselling with Claire Deane 
CBT with Claire Deane
Therapeutic Massage with Dorthe Nielsen
Relaxing Massage with Dorthe Nielsen
Body Talk System with Yvette Smith 
Osteopathy with Gillian Lonsdale 
Naturopathy with Gillian Lonsdale

Thursday 29th
Colonic hydrotherapy with Mandy Jones  
Deep tissue massage with Serge Tampakakis 
Raynor massage with Serge Tampakakis
Kinesio taping with Serge Tampakakis 
Sports massage with Jambaal Jeng 
Back and neck pain therapy with Jambaal Jeng
Visceral manipulation with Jambaal Jeng
Deep tissue massage with Melanie Howlett
Holistic and advanced clinical massage with Melanie Howlett
Myofascial release with Melanie Howlett
Advanced sports stretching with Melanie Howlett
Reiki with Melanie Howlett
Friday 30th
Sports massage with Jambaal Jeng 
Back and neck pain therapy with Jambaal Jeng
Visceral manipulation with Jambaal Jeng
Myofascial release with Jambaal Jeng
Hypnotherapy with Urmila Lewis 
Clinical NLP with Urmila Lewis   
Acupuncture (including IVF, fertility and pregnancy oriented) with Victoria Busk
Reflexology with Victoria Busk 
Saturday 31st
Colonic Hydrotherapy with Enrida Kelly
Physiotherapy with Ravi Shanker
Counselling with Phil Hartland  
Cognitive, behavioural, psychodynamic therapy with Martyn Bignold 
Slimming massage Better than Lipo with Hayat el Hamri 
Chiropractics with Robert Lloyd 
Bowen Therapy with Daniel Dollin
Acupuncture with Daniel Dollin
Reflexology with Daniel Dollin
Aormatherapy with Cindy  Mollineau
Reflexology with Cindy  Mollineau
Bamboo massage with Cindy  Mollineau

Sunday 1st September
Therapeutic Massage with Helen Rennie
Art Therapy with Helen Rennie
Aromatherapy with Helen Rennie
Counselling with Helen Rennie
Crystal Healing with Helen Rennie
If you would like to know more about any of our therapies please conatct us on 0208549800 or 07436 070 832
[social_share]