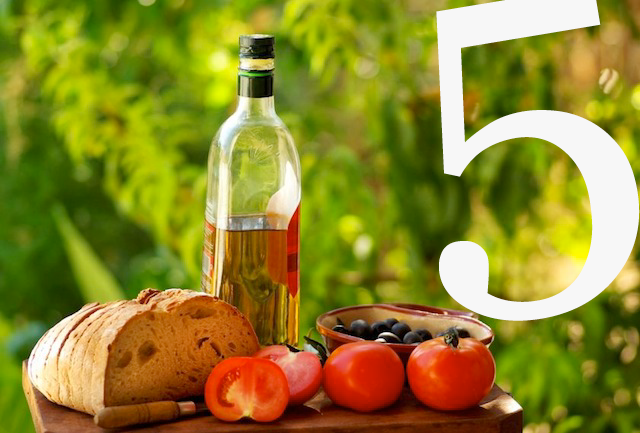 5 great ways to use olives
Following on from yesterday's blog on some of the health benefits of olives, today we give you 5 fantastic recipe ideas using olives.
1. Traditional Spanish breakfast
Slice a baguette in half lengthways, toast under the grill, rub the toast all over with a tomato, drizzle with extra virgin olive oil and a sprinkle of salt.
2. Easy tapenade
In a food processor put: a sprig flat leaf parsley (leaves only), a small clove of garlic, a handfull of black olives (pitted), 2 anchovy fillets, 3 tablespoons of olive oil. Gently blend to a paste and season to taste. Use as a dip or a spread. For a vegetarian version swap the anchovies for capers.
3. Mediterranean marinated olives
Use good quality water or brine cured olives green or black olives. Mix with a sprig of rosemary, thyme, oregano and bay leaves. 2 cloves of garlic gently crushed a teaspoon of peppercorns. Put in a jar or bowl and cover with extra virgin olive oil, put in fridge for 2 days, these will keep in the fridge for 2 weeks.
4. Greek pasta salad
Cook 150g pasta in  salted water, when the pasta is cooked add 125g of spinach, leave for 30 secs before draining. Put the pasta & spinach in a bowl and mix with 100g halved cherry tomatoes, 75g black olives (pitted), 100g feta cheese, handful basil leaves and 2 tablespoons olive oil. Gently mix together, season with sea salt and freshly ground black pepper and serve warm.
5. Easy nicoise
Mix together a handful of cooked fine beans, 100g pitted black olives, 1/2 red onion sliced, 6 anchovy fillets sliced lengthways,1/2 yellow pepper sliced, handful cherry tomatoes halved, 6 cooked new potatoes sliced and a hanful of fresh basil leaves. Place on a bed of little gem lettuce, cut 2 boiled eggs (still a little soft in the middle) into quarters and decorate round your salad. Make a dressing with 1/2 a squeezed lemon, olive oil and crushed garlic, adjust to taste, drizzle over your salad then add a tin of drained tuna or better still a nice fresh seared tuna steak.
---
[social_share/]